ShowerSealsDirect are pleased to offer excellent value on BAL Tanking kits. We are bringing together the leading shower and bath seal (Sealux & Trimlux) with the highly regarded and industry leading tanking solution from BAL (Building Adhesives Limited).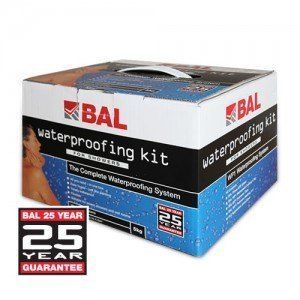 Bundled with the BAL Tanking kit is a Sealux Reg 20 Kit that is specifically cut for shower tray installations. These measure 1.25m in length and each kit ships with 3 such trims. The kits also include Sealux-N Silicone, endcaps and cleaning wipes.
Say goodbye to exposed discoloured silicone and hello to the complete waterproof system.
Avail of our discounts Now! by visiting the wall tanking products page